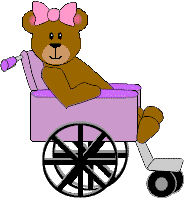 The following are sites that include lots of information and links relating to a wide variety of conditions and disabilities.

indicates a site that includes a link to this site and also appears on the Rays of Sunshine home page.
All disABILITY Links Internet disAbility resources (lots and lots of links-not ours-yet).
Disability Links by Douglas Zachary
The Cerebral Palsy Links page (by someone with cp)
KIDS LINK 2000 + links to info about children with disabilities (not us yet).
National resources on disability issues
Families with Special Needs Children (this site is by a parent of a child with special needs and has lots of great info-especially alternative treatments for children with cp)

Christian ParentsSpecial Kids ( this is the site for the Christian Parents Special needs mailing list and has great info and links on a variety of topics (hydranencepaly is page 8)

Geocities Disability Community Project

Nazara's Healthy Dose of Awareness (this is Naz's personal home page which also has many links to info about children with special needs). Our site is listed here as well on Naz's Disability hot list under medical)
Cerebral Palsy Connection (CPC)

KidPower Family Support Resource Inc.

Parenting Special Needs - Home Page (we're listed under the Neurological section)

Our-Kids (great great site. It also included links to subscribe to the Our kids mailing list. We're listed under Family Home pages, and"Who Knows Our-Kids")
NICHCY National Information Center for Children and Youth with Disabilities.
My Links (Site by Vince Montgomery, a man with CP who lives in the lower mainland area of British Columbie) Lots and lots of links to all kinds of things like music sites, Canadian sites, as well as lots of links to Disability resources as well. Includes info on travel for the Disabled.
Special Needs Resource Links (tons of info)

abilityWeb Search Disability_and_DiseasesDisabilitiesChildren_with_Disabilities
Resource Links (lots of good links)
homepage (this is the home page of the above link and is specifically about speaking valves for people with Tracheostomies)
The Andrew Project (an information and referral service)
ChallengeNet great site, especially the gtube section
Ability_index_and_search_engine_page
Disability-Related Resources on the Web
JPDas Developmental Disabilities Centre
10 Services (Canadian services available to families of children with special needs)
www.mother.com Occupational Therapy world
United States Cerebral Palsy Athletic Association Home
Indie . Excellent resource
Spinoza Bear (this is a wonderful bear that many of our children with special needs receive free of charge. He plays regular tapes as well as the talking book tapes.)

Lamb's Way Links to Medically Fragile Infants and Children Internet Sites (tons of stuff on this web site) We're listed under Personal Home Pages
Caregiver Community - Web of Care (looks interesting-not necesarily about children though, you need to register for services (free))
Untangling the Web--Disability Links zillions of links related to all aspects of disability
Resources for Children Who Are Medically Complex or Technology Dependent

Bear at top of page was adopted from School Days Graphics