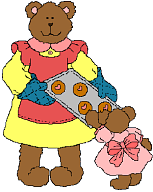 There's not much here yet but keep checking back as I will add sites as I find them.
About.com - ParentingFamily (our site is listed under parenting special needs, neurological)
Family.com Parenting Category Page
ABC's of Parenting - Comprehensive Source for Great Parenting Pregnancy and Childcare Articles Segmetns and Sites (This site is listed under the 4 star award sites: Personal home pages)
Family Voices Home Page - Speaking for Children with Special Health Care Needs
Crayola Family Play http://www.familyplay.com Lots of activities to do with children
Parenthood Web http://parenthoodweb.com
The Polly Klaas Foundation http://www.pollyklaas.org Offers a free child safety kit
Positive Parenting Newsletter http://www.positiveparenting.com/news.html
Screen It! http://www.screenit.com
Family Guide Book tons of family safe sites and information on internet safety.
My ParenTime - Your Info Community!
Bear at top of page was found in a general collection of clip art. If this bear belongs to you please let me know.