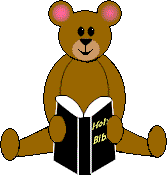 These are assorted Christian sites I've found.
Elizabeth George Christian Development Ministries
AnimationsScreen SaversGraphicsGamesJavaScriptsJavaChat RoomHTML Forum
Welcome Canada to Canadian Christian
GOSHEN Christian Search Engine and Directory
All In One Christian Index - Main Index
Gateway to Joy - Family of Broadcasts
All In One Christian MetaSearch Engine (links to Christian graphics sites, with lots more as well)
Spiritual Gifs and Jpegs Too!!
His Eye is on the Sparrow Home Away From Home
FCI Image Index Christian graphics site
Free Christian Web Site Graphics Directory
Children's Sonshine Network -- Christian Kids Radio
NotOld (this is cute, it does also have links to Christian sites)
Christian Inspirational Postcards (beautiful post cards for you to email to friends)
Teach Me To Pray (beautiful)

Bear at top of page was adopted from School Days Graphics