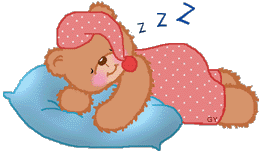 Most of these are clip art sites but have links to other info about Teddy Bears.
Welcome to Pooh's Beary Special Greetings
[Cute Colors Notti Bear] If you click on the Home button at the bottom of Notti Bear's main page you will find a link to where you can purchase collections of beautiful graphics, mostly bears. Many are found throughout this web site.
Andrea's Country Touch - Teddy background sets
Teddy Bears (beautiful variety of bears)
Bear Clipart (part of a large site called Resources for Bears which has lots of bear (not just Teddy Bear) info)
Bear Jests Post Office! (online post cards featuring a variety of bears and other stuffed animals)
Bear Jests Banners! (logos to use if you want to place a link to Bear Jests on your home page)
Bear Top 50 - The Ultimate Site Ranking System
BearyBlue's Bear Nook Teddy Bear Graphics Links
Teddy Bear Island - CYBEARGRAM Pick Up Center
Boyds Bears N' Buddies Postcards
Bear Artists Online (cybeargrams)
Spinoza Bear (this is a wonderful bear who many children with special needs receive free of charge. He plays regular tapes as well as Talking book tapes)
Welcome to Pooh's Corner (the guardian angel bears seen throughout this web site are from this site. there's lots of other neat teddy bear stuff as well)
Send-A-Teddie Greetings - Cherished Teddies Postcards - from The Teddies Trader
<
Teddybear NL Cherished Teddies Postcards

All4Love Postcards Greetings Ecards ICQ Greetings and more!
Teddy Bears Great Teddy Bear borders and backgrounds
Bear at top of page was adopted from Notti Bear's Collection