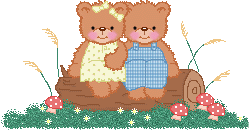 These are assorted poems and greetings that have been sent to me. Check them out and send some to a friend.
Welcome to Pooh's Beary Special Greetings
Cards for Kids Website! ( a site about sending home made cards for children up to the age of 18 who have life threatening illnesses)
Make A Child Smile (another site where you can send cards to children with life threatening conditions)
Backgrounds By Sapphire (lots of different cards to send as well)
Online poems
This page is here just for hugging.
Send Someone A Hug Today (give this a try when you need a smile, then send it to someone else)
NotOld (this is cute)
Cyber Camera (try this out)
Lovely Sound-Send to all your friends now!
DANCE...PLEASE STEP BACK FROM THE COMPUTER
www.angelfire.com (cyber hug)

Bear at top of page was purchased from Cute Colors Graphics