Standers/Walkers etc.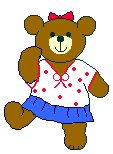 This page has links to a wide variety of equipment that allows your child to either stand in one place or to move around while standing.
Walkers and Gait Trainers (Adaptive Mall, shows pictures of specific equipment and links to info on each)
Standers (Adaptive Mall)
Official North American Hart Walker Web Site
SMART Mobility Orthosis (a walker and orthotic in one)
Our Bodies Are Made to Stand (Easy Stand)
Rifton Standers and Mobile Walkers The supine stander is what my daughter has used. There are also mobile standers.
Welcome to Snug Seat! (Bronco Walker)
Welcome to Snug Seat! (Rabbit Walker)
MADDACRAWLER™ PRONE SUPPORT WALKER (this is for crawling)
Sit and Ride™ Ambulatory Aid (again, not a walker but seems to fit here best)
Litegait (looks great)
Consumer Care Products Inc. (a variety of devices)

Bear at top of page was adopted from Sharon's Land of Hearts