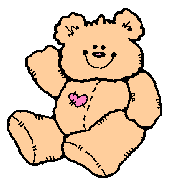 Kids' Sites
There are a wide variety of links on this page. Some fun, some educational, some both. There are also quite a few links to children's web rings which allow you to access even more sites. To the best of my knowledge all of these sites are child friendly.
Making Friends and Other Crafts for Kids
Billy Bear's Playground - Billy Bear 4 Kids.com
Fun Stuff for Kids Itons of great links for kids)
StudyWeb (tremendous number of links to various subjects)
Just For Kids - Children's Bookstore (as this is a store, kids need to have parents go to it with them)
123 ABC Kids Ring web ring featuring sites for children and/or home schooling
4Kids Only WebRing large web ring of sites for kids
Happy Pages web ring. Pages are monitored closely to make sure they are kid safe and upbeat.
kids with disorders reaching out to each other
Cool Science for Curious Kids http://www.hhmi.org/coolscience
Earth Dog http://www.earthdog.com
Smithsonian Institutes' Kids' Castle http://www.kidscastle.si.edu
Kids in the Kitchen http://www.kitchenlink.com/cgi/public_frames?page=rcpkids
Toy Lab http://www.toylab.com
4kidsgraphics 's Home Page lots of kids' graphics
PageWorks Kitty Roach's original image animation - free for personal homepage use. This site has graphics but also has some neat stuff for kids.
INTERACTIVE EDUCATION AND HOLIDAY PAGES Lots of fun!

Bear at top of page was adopted at Rainbow Connection Graphics