Bathing Equipment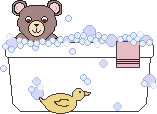 There are a lot of different types of equipment to help make bathing your child with special needs easier.
Bath Chairs (Adaptive Mall, gives a list of available bath chairs with pictures and links to site with specific info)
Shower Chairs (Adaptive Mall)
Bath Chairs (Columbia)
Bath Supports (Columbia)
ROLLING SHOWER CHAISEPOSITIONING CHAIR (Ableware)
Aquatec - Clarke Health Care Products Inc. (Aquatec bath seat)
Ortho-Kinetics, Inc.,
P.O. Box 1647, Waukesha, WI 53187
(800) 824-1068 Fax: (414) 542-4258
Manufacturer of TLC Bath Chair, and pediatric rehab equipment.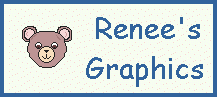 Bear at top of page was adopted from Renee's Graphics